*This post contains affiliate links. If you decide to make a purchase using one of the links, I will receive a small commission. There will be no additional cost to you.
As someone who has been doing the craft fair "thing" for just about ten years now, I have gone through my fair share of different jewelry display ideas. I like to make them myself when I can, but I am not above buying something pre-made if it's just right.
At each show, I usually keep blank paper handy so I can jot down things I want to change about my booth, sketch ideas for new displays, or note problems that need solving (ex: keeping something from being blown over by wind!). Because of this, I am constantly thinking about ways to improve my set-up and make it a little better each time.
Here are a few ideas I found while browsing Pinterest and would love to incorporate in the future. Some are ready-made and available to purchase, while some include tutorials for DIY.
Copper Jewelry Stand Tutorial – eHow
This copper jewelry stand DIY is great, because there is no set amount of jewelry you have to use. Pile it on if you have a lot, or spread it out if you're running low. It would also be cute to do a couple in different heights for longer/shorter necklaces.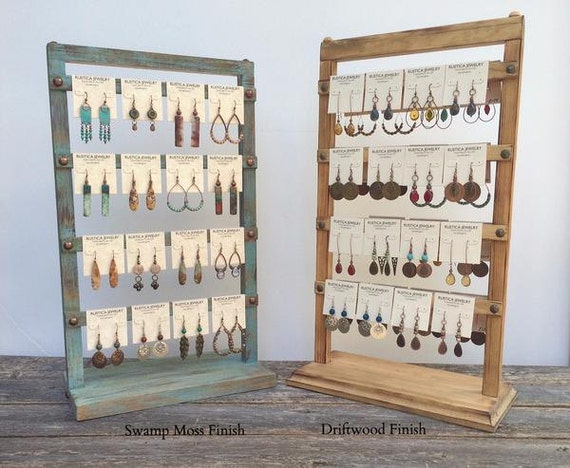 I love these handmade earring racks that are available in several colors on etsy! They would be perfect if you sell your earrings on cards as shown. It's always a good idea to have a few displays that are vertical instead of everything being low to the table.
*Gilt Jewelry Stand – Wisteria
This one is beautiful and simple, and available in three different sizes. The minimalist gold look fits right in with the displays I already use and won't interfere with delicate pieces of jewelry.
Standing Earring Display Tutorial – TheOther128Hours
This tutorial for a standing earring display is perfect because you can customize the size of it and the number of hooks – I think setting up a couple of small ones around the booth would be great. Plus, it looks like it would hold up well on a windy day – one of my main requirements!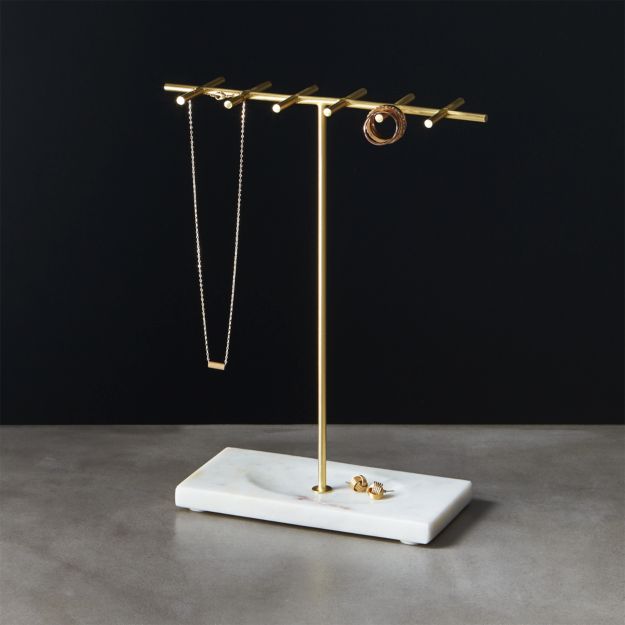 *Brass & Marble Jewelry Holder – CB2
This simple and sleek necklace stand from cb2 would look really nice paired with the other gold-tone one above. It's subtle enough to go with almost any display style and looks small enough to fit just about anywhere.
This set of three necklace/bracelet stands from Amazon are a really good value and a great way to squeeze in extra inventory without taking up a lot of space. They are on my wish list, and I will probably break down and buy them very soon!
Please follow and like us: